Strategize Your Way to be An IoT-driven Enterprise
Infigrid's IoT consulting team engages through a workshop approach to formulate IoT strategy-blended with top-class security, evaluate and explore IoT use cases, assessment and selection of IoT platform & technology to help you build flexible & highly productive connected solutions.
Key outcomes from our consulting Services
IoT Strategy Development
Our Business Team get insight into your existing business model to exploit all the possibilities on how Internet of Things can add value to your business model and help design and document a clear IoT strategy for your business.
Internet of Things Workshop
Our team of IoT consultants organizes a workshop in an inspiring and innovative environment to deliver several IoT use cases that can be applied to your business model.
Outline Technology Roadmap
Identify the technology asset to cover the business requirements for initial and long-term IOT initiatives. Major technology parts are an IOT platform, Hardware, User devices, on-premise and hosted infrastructure data processing and analytic engine. We will provide validated design while considering interoperability and integration.
Platform analysis for end to end integration
To ensure the selected IoT platform is easily compatible with different hardware, sensors, gateways, as well as supports communication protocols. Ensure all necessary APIs are available and open to use.
Intelligent Platform Architecture
Working with our technology partners and internal team of architectures, we build an open platform architecture that is secure, scalable, reliable and promotes an end-to-end connectivity.
Proof of concept | from idea to reality
Technical team of IoT experts apply the newest technologies and build the proof of concept to prove your idea is technically feasible. Team gathers and analyze data and experience to see if we can confirm your IoT use case.
Address Data Security
Our consultants work with numerous technology partners to incorporate the best-in-class security and privacy practices in IoT technology selected for implementation to ensure modern encryption protection for your data.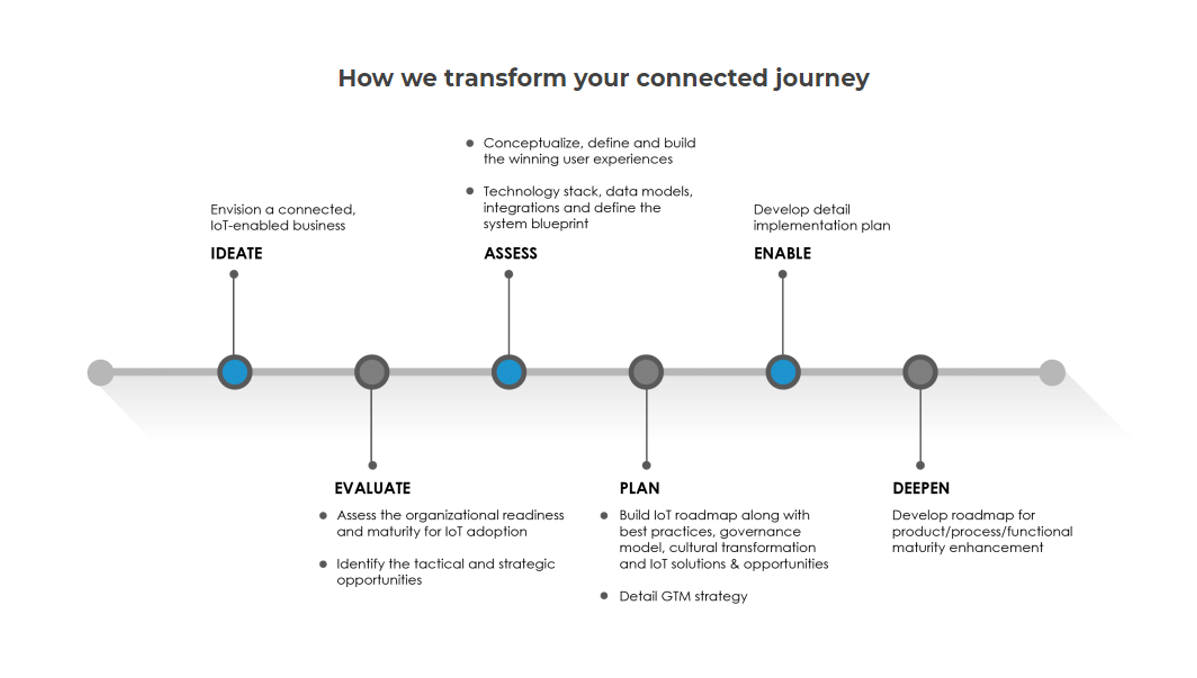 Let us partner with you and define your IoT strategy - together.