We make your business a touch away by building smart & interactive mobile apps for iOS platform.
At Infigrid, we develop elegant iOS based mobile applications packed with incredible power, creativity, and rich user experience. Our genius developers, creative designers and talented backend team enable us to provide complete end-to-end mobility solutions starting from the initial conceptualization to final deployment of application in the app store.
Let's take a look at our iOS mobile application development services
iOS Application Strategy
Our expert team of iOS application development dives in deep to understand your brand, derive audience insights and develop strategic planning and roadmap required to create engaging iOS mobile application.
iOS Application Design
Our creative team of UI/UX ensures that design and UI experience they create is beautiful, easy to use, efficient and in sync with the user demographic. Right from concept to reality, we walk you through every bit to ensure your branding and business message resonates with the users.
iOS Application Development
At Infigrid, We use the best tools and technologies to craft the innovative iOS mobile applications by adhering to the Apple's development guidelines with prime focus on quality, usability compatibility and performance.
iOS Application Prototyping
Infigrid offers iOS mobile application prototyping services using various platforms and toolkits that enable clients to get a real feel of the app before final development and prevent extra cost for fixing pitfalls.
iOS Application Testing
Our thoughtful team of QA uses the best automation tools and physical devices from our lab to test every bit of your application from functional, design, network, compatibility, and performance perspective.
iOS Application Support & Maintenance
Infigrid offers ongoing technical support and maintenance services to keep your iOS mobile application at the forefront of competitive edge.
Verticals of Mobile Application Development
Enterprise Mobility
Enterprise Mobility Management
Consumer Apps
Fleet management
Mobile device management
eCommerce
Enterprise resource planning
Mobile application management
Social networking
Executive dashboards
Secure content & email management
Education
Workforce productivity
Lifestyle & sport
Digital content distribution
Self-care applications
APP POWERED BY LEADING EDGE FEATURE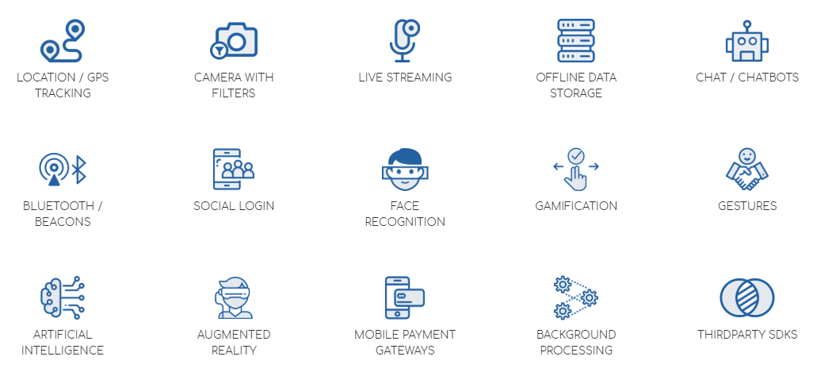 Give wings to your imagination; develop a mobile app with Infigrid – Talk to Creative Developers right away.