Our capabilities include:
Azure Infrastructure Services
Application Platform Development
Azure SQL & Data Storage
Azure Managed Services
Azure Migration Services
Azure IoT Services
Azure Machine Learning and AI Services
Azure Cognitive Services
Active Directory Identity & Access
Azure Container Services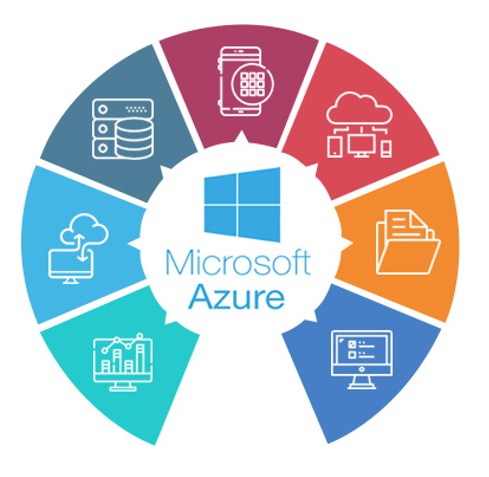 InfiGrid brings you one of the largest cloud computing environments in the world – Microsoft Azure that includes a wide spectrum of integrated cloud services analytics, computing, database, mobile, networking, storage, and web applications to support businesses compete more effectively in the market.
At InfiGrid, we have proficient experts who can help you build, design and manage hybrid Azure cloud solutions. Our cloud services based on Microsoft Azure cloud platform can help you deploy and scale powerful applications and API's that lets you move faster, achieve more in your business and save money. It is a foremost cloud platform for both IaaS and PaaS coupled with unmanaged as well as managed services.
Managed Services
Microsoft Azure cloud hosting is cost-efficient, helps in amplifying revenue, secures data, helps in disaster recovery etc. We have experts with us who can help with deployment, cloud migration, security, threat analysis, and support so that you can scale as you need as well as make smarter decisions.
Development and Testing
We provides a full spectrum of development, deployment planning and testing services with the help of our proficient Azure DevOps team. We oversee the entire application lifecycle, from concept to operations management and then strategize accordingly to seamlessly add new apps to generate new revenue streams.
Advanced Services
We provides a wide variety of consulting and development services based on Azure cloud hosting. Our services include IoT, machine learning, advanced analytics and data warehouse in the cloud backed by the Microsoft service level agreement.
Benefits of Adopting Azure Cloud Platform
Azure allows businesses to quickly deploy applications in the cloud, which saves on infrastructure costs while reducing the hardware and maintenance burdens
LIGHTNING SPEED
Microsoft speed of deployment, speed of operation scalability and functionality is just unmatchable by on-premises as well as even other cloud providers.
SECURITY
Get secure and seamless logon for the users – business to business or for individuals. This allows the customers to use familiar accounts such as Facebook or LinkedIn to login to services.
AGILITY
Enterprises that uses Azure are able to develop, test, feedback and retry as applications are developed. This way it's easier to explore new avenues and new technologies.
SCALABLE & FLEXIBLE
We use Azure in order to easily create applications running reliably as well as scale from 10 to myriad users without the need of any additional coding.
GLOBAL REACH
It is easier for enterprises that use Azure can have their services run in datacentres worldwide, easily. It enables them to modify the global footprint of their applications in a dynamic manner as performance and utilization changes.
FULLY-INTEGRATED CLOUD ENVIRONMENT
We offer tools that make it easier to build Azure solutions. It surely benefits the developers as well as demonstrates Microsoft Azure's business focus.
Still confused on how Microsoft Cloud can give your business the competitive edge? Feel free to speak to our experts about using Azure cloud hosting in your business. We have deep-understanding of the domain and can provide latest guidance, implementation and support services to build scalable, secure and cost-effective cloud solution.