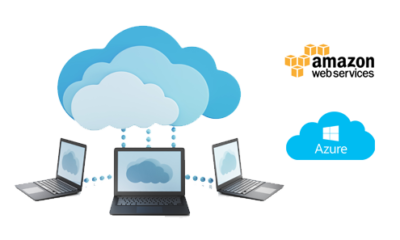 AWS – Amazon Web Services
AWS is a high powered on demand cloud computing platform that is catering its services to Fortune 500 companies to major Governments across the world.
Amazon Web Services (AWS) is a complete, comprehensive, ever evolving cloud computing platform, which is highly flexible, scalable and used for various technology services such as Infrastructure as a Service (IaaS), Platform as a Service (PaaS) and Software as a Service (SaaS).
AWS offers a plethora of services including but not limited to power of computing, storage of database, content delivery network services, to help small, medium and large enterprises to scale up their operations and grow manifold levels.
Our Amazon Web Services
AWS Mobile Services
AWS Application deployment services
AWS Business apps solutions
Business model integration
Server & App Solution Management
Enterprise IT Applications from AWS
Backup, Storage & Disaster Recovery
AWS offers a complete set of infrastructure and application services, high computing power, database storage, content delivery and other functionalities enabling businesses scale, grow and run virtually everything on the cloud: from enterprise applications and big data projects to social games and mobile apps.
Our cloud choice with Amazon web services provides an end-to-end and cohesive set of offerings to help businesses effortlessly mover their workload from on premise infrastructure to the AWS Cloud. We have been offering cutting-edge business-to-business and cloud-to-cloud integration services so that you can experience security and high performance of your applications while ensuring well-planned infrastructure.
Explore the benefits of Amazon Web Services with us that offers a wide spectrum of remote computing and cloud services solutions to fuel your business grow. Our services include best-practices and tools to eliminate operational complexity and help in saving money. It includes: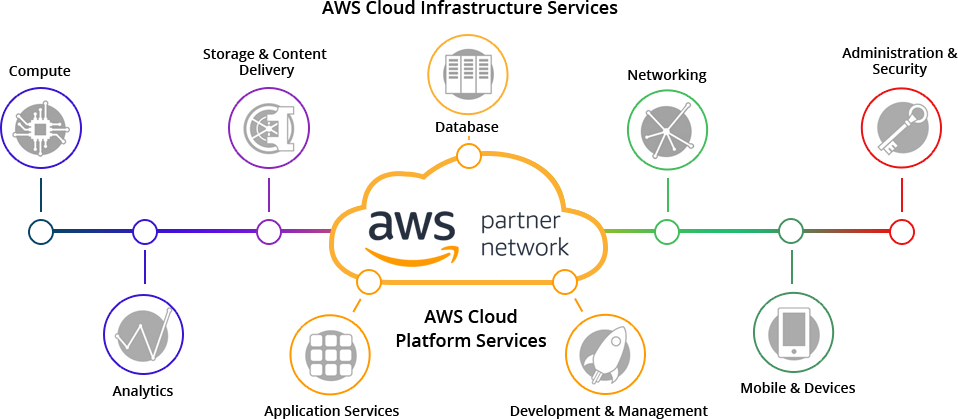 Our growing team of AWS-trained consultants as well as architects work closely with our clients to deliver specialized IP solutions in Auto Scaling, Elastic load balancing, Amazon S3, Amazon CloudFront, Amazon EBS, Amazon RDS, Backup & Recovery, Disaster Recovery; besides AWS Elastic Beanstalk, Amazon VPC, Amazon Cloud Watch and Amazon SNS to name a few.
We have an extensive experience in providing an all-in-one industry-specific solution, cloud hosting and ongoing management along with proven ability to migrate workloads to the AWS cloud safely and with minimal disruptions.
Migration assessment and comprehensive cloud strategy.
Cloud readiness check: Detailed assessment of the existing applications and hosting solutions.
Cohesive approach to strategy: Comprehensive cloud strategy to meet business and technical goals – financial objectives, regulatory & compliance requirements, application discovery and classification constraints.
Compatibility check: Identification and alignment of applications suitable for AWS.
Accelerating implementation: Piloting of applications and Proof-of-Concept on AWS; Reference architecture and implementation.
Planning and estimation: Infrastructure and migration planning, development of roadmap and cost estimates.
Migration and implementation.
Facilitating migration: Data and application migration; hybrid migration strategy; planned cut over;
Implementation and application deployment: Comprehensive infrastructure and application architecture implementation, deployment and delivery of applications on AWS cloud.
Application integrations: Cross-platform application integration with existing on premise infrastructure and gateway implementation.
Leveraging native cloud features: Auto-scaling, automation, elasticity, high-availability, Disaster Recovery (DR), backup, archival and storage strategy.
Cloud security: VPC, Subnets, ACLs, locked down security groups, IP tables, penetration testing etc.
Quality Assurance: Functional testing, UAT, performance testing, fail-over and DR testing.
Monitoring services: Monitor tools and frameworks, command and control center, Standard Operating Procedures (SOPs).
Managed Services.
Optimizing: Utilization and performance optimization for efficient process framework.
Re-engineering: Services for ensuring that applications smoothly adapt to AWS cloud. Re-factor application architecture and embrace additional AWS services.
Automation: Complete infrastructure and application deployment automations using various tools and techniques like AWS Cloud Formation, OpsWorks, Chef, Puppet, CloudInit etc.
Our team is eager to start creating and get our hands and minds occupied with your next big thing. So, really, there's no reason to wait, get in touch with one of our AWS expert and let's create together!